Earlier this year we heard rumours that Sarah Paulson would not be returning for the latest season of American Horror Story. Now it seems they might not be entirely accurate.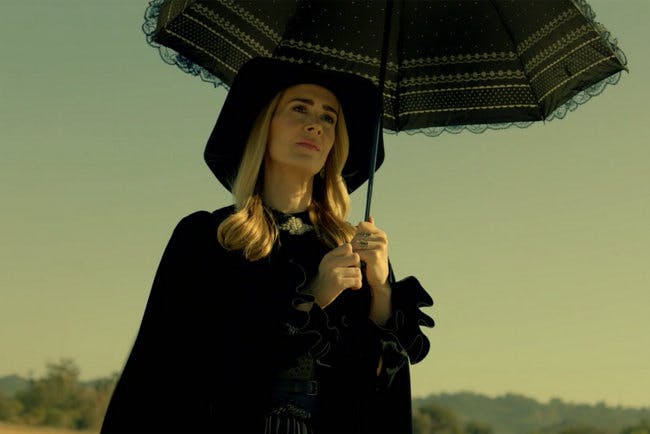 The Emmy and Golden Globe-winning actress has appeared in every season to date, and there was talk that she, as well as Evan Peters, would be sitting the season out. Now in an interview with Entertainment Tonight, she has revealed that she might "pop up" in American Horror Story: 1984 after all.
"It's a little bittersweet because I have a lot of friends who are still on the show," Paulson said. "So I'm getting updates about how it's all going and what they're doing, and I'm like, 'Wait, what? You worked until two? Oh, I remember working until two."
The actress continued, "And then I'm also very glad that I can wake up at a decent hour because I'm not cross-eyed from having worked insane nights. But, it'll be hard. I'll be watching and cheering everybody on. I'm really excited for this season."
"I think it's a really cool idea for the show this year. And you never know, I may pop up. You never know. No promises though."
The ninth season is set to premiere on the 18th of September. Taking inspiration from iconic 80s slasher movies, a murderer known as Mr. Jingles escapes from an asylum and heads for a summer camp that we're sure will be one bloody affair!
AHS stars returning for 1984 include Emma Roberts, Billie Lourd, Cody Fern, and Leslie Grossman, while Gus Kenworthy makes his acting debut joining newcomers Matthew Morrison, DeRon Horton, Zach Villa, and Angelica Ross.
Next week really can't come fast enough! What are your thoughts on Sarah Paulson returning?
15th of September: Drag Brunch LIVE
15th of September: Category Is Loud And Proud
19th of September: PRIDE Sessions Ft Alfie Arcuri LIVE
21st of September: PROUD (Official Brisbane Pride After Party)