She's taking the world by storm and LIZZO is coming to Brisbane. When you love yourself, anything becomes possible. That is the message behind everything LIZZO stands for. An advocate for body positivity and self-love when she steps out on stage she owns it 100%.
In an industry that says you have to be a certain way, she's turned around and given it the middle finger. With an incredible voice, Lizzo has a persona to match. Her sass, free spirit, and unforgiving ability to speak her mind have made her an inspiration to many while taking the charts by storm with hit after hit.
It came as no surprise when news broke that she would be one of the headlining acts of the 2020 FOMO festival, fans were beyond excited. Not only would the queen be bringing her jaw-dropping performances but also her message of body positivity and self-love finally to the land down under!
If the wait for her highly anticipated performance at FOMO is proving to be too much, we've got the perfect solution for you. Harry K & Fluffy are taking over Family Night Club for the ultimate LIZZO Appreciation Party!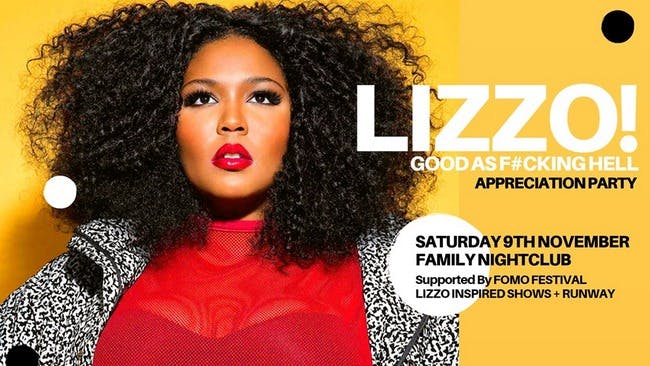 Lock November 9 in your diaries, because LIZZO! Good As F#cking Hell is going to an epic love letter to the incredible performer packed to the brim with entertainment. Queensland's singing drag queen Sellma Soul will be taking up hosting duties for what will be an unmissable night!
Partygoers will be treated with five massive LIZZO inspired shows featuring some of Brisbane's most in-demand performers covering all her hits as well as a runway competition. Better bring those dancing shoes because the DJs will also be spinning the best Pop, RnB, and commercial you can find on a Saturday night!
If this wasn't enough to get you excited, the night is supported by the very festival responsible for bringing Lizzo to Australian shores. There will be several ticket giveaways where you could score the opportunity to see her perform live and in the flesh at FOMO on January 4.
Are you ready to celebrate all things LIZZO?
9th of November: LIZZO! Good As F#cking Hell (Family Night Club)
GoHakka Events:
29th of September: Drag Brunch Club Pride Edition
29th of September: All Stars | Thicc Shake Crew + Kween Kong (Fluffy)
6th of October: GLAM | Stranger 80's Things Party
19th of October: The Alexander Ball | Category Of Ages
27th of October: Halloween Ball 2019 (Fluffy)
Check out more exciting events happening throughout Brisbane by clicking HERE!