Here's a bit of exciting casting news for that upcoming reboot of The Craft. If this latest casting call is legit, it seems producers are looking for a trans Latin actress for one of the lead roles.
Over the past weekend a casting call for the remake began circulating on Twitter which read, "Transgender, to play Latina, a punk rocker, Lourdes is the second member of the teenaged Clique."
"Her super-Catholic mother threw her out for being trans, and she now lives with her 80-year-old Abuela, who has taught Lourdes a variety of supernatural practices."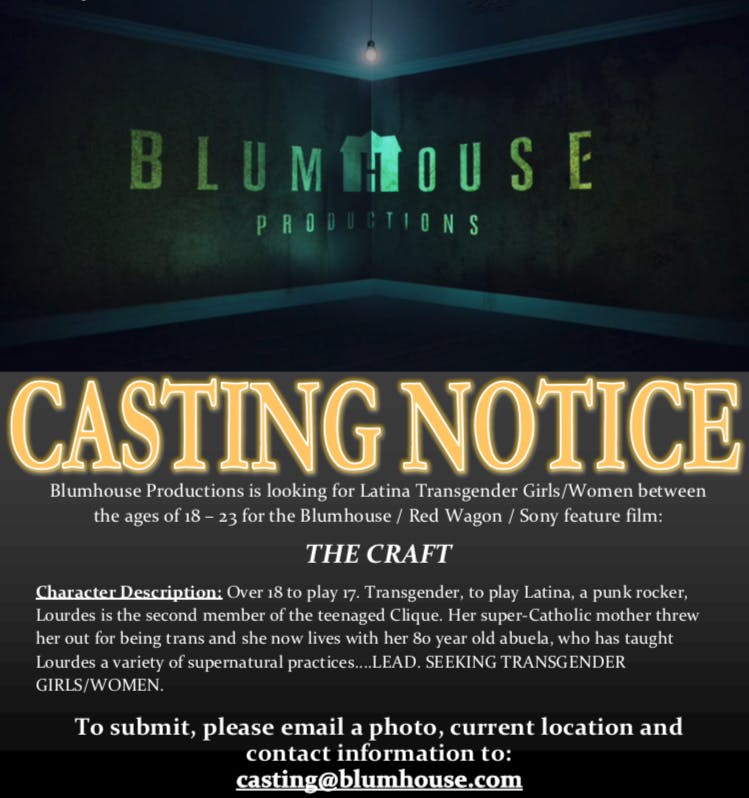 What is also refreshing and also a sign that times are chasing, the casting call makes it very clear they instead to cast an actual trans actress for the role. The synopsis for the remake is as follows: "When starting at a new school, Hannah befriends Tabby, Lourdes, and Frankie and quickly becomes the fourth member of their clique. Hannah soon learns that she somehow brings great power to the quartet."
The 1996 original followed four outcast teenage girls who discovered they had supernatural abilities and pursued witchcraft for their personal gain resulting in some pretty full on consequences. While it may have received mix reviews upon release, the film has since gone on to develop quite the cult following.
The remake is helmed by producers Jason Blum, Doug Wick, and Lucy Fisher, while being written by Daniel Casey and Zoe Lister-Jones, with the latter also set to direct. With Blumhouse being known for horror films such as Split, The Purge, and Happy Death Day, it looks like the remake is in safe hands.
I'd be lying if I said this latest news didn't get me a little excited for the remake. What about you?