The first teaser trailer for Star Wars Episode IX has dropped, and we're having a massive geek out! With this installment titled The Rise of Skywalker, it's no surprise that the film will bring the conclusion to the Skywalker saga as we know it.
For a teaser trailer, we get a heck load of footage with certain moments bound to make true Star Wars fans giddy with excitement! So we're gonna break down the key moments in the teaser below.
While the trailer really doesn't give away any details of the actual plot of the film, it is however packed with hints of what we can expect from The Rise of Skywalker. We've collected the best key moments below along with what we think they might possibly mean. Let the speculation begin.
The trailer opens with a shot of Rey on an unknown desert planet. My bets are Jakku. "We've passed on all we know," Luke Skywalker says in voiceover. "A thousand generations live in you now."
We see Rey armed with a lightsaber. Obviously, she's completed her Jedi training and made her own. A ship appears similar to Kylo Ren's TIE Silencer but looks more like the traditional Tie Fighter. Speeding towards Rey, we see her flip over it. It seems like we might finally see the human vs. Tie Fighter fight that was disappointingly cut from Star Wars: Rogue One.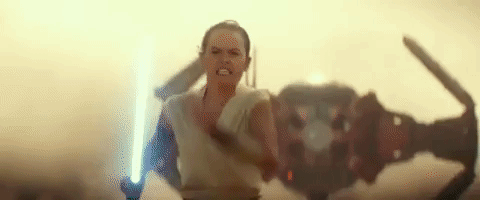 Next, we have ship heading towards a city at night. I'm pretty sure we're on a different planet now. However, does anyone else think that ship looks similar to Rey's parents that we previously saw leaving her on Jakku as a child in The Force Awakens?
Being Star Wars and also the conclusion to the Skywalker Saga it's a safe bet to expect there's going to be some epic lightsaber fights. We have Kylo Ren who is now the Supreme Leader of the Force Order taking down an attacker with his lightsaber.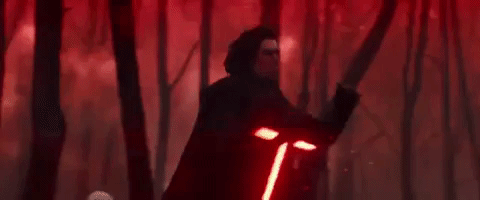 My first thoughts were, is this one of the Knights of Ren? But then again why would they only be armed with an ax? Also, take note of the Storm Trooper in the background. Could this be showing Kylo further descent to the dark side?
We have another shot of Kylo repairing his helmet, it seems Kylo will be wearing a mask yet again in an attempt to strike fear in much the same way as his grandfather did.
We finally get our first look of Billy Dee Williams reprising his role of Lando in the cockpit of the Millenium Falcon with Chewbacca as co-pilot. And for good measure we have him cheering obviously a callback to the iconic scene from Return of the Jedi.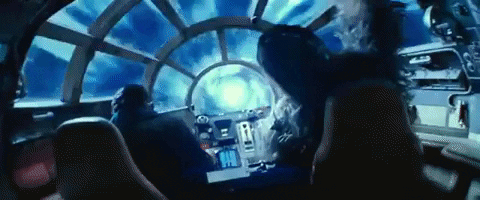 We have another scene with Poe Dameron, Finn and C-3PO back on a desert plant evading what looks like flying Storm Troopers. It's hard to tell, but it seems like they're riding on something similar to the skiffs Jabba the Hutt's guards used in Return of the Jedi. There's been rumours that the Hutts would feature in Episode IX, so it would also be cool to see Tatooine once more.
The next shot is of someone holding one of the Medals awarded to Luke and Han after the Battle of Yavin IV at the end of A New Hope. Are those Leia's hands? Considering the next shot is of Leia and Rey in a teary embrace, we think this might be the case and also leads to final farewell to Carrie Fisher in the franchise. The feels will be strong with this one.
We see Rey, Poe, Finn, Chewbacca, C-3PO, BB-8, newcomer droid D-0 at the edge of a cliff with the next shot showing what appears to be the wreckage of one of the Death Stars. Could they be on Endor? My bets are a big "YES!" considering what happens next.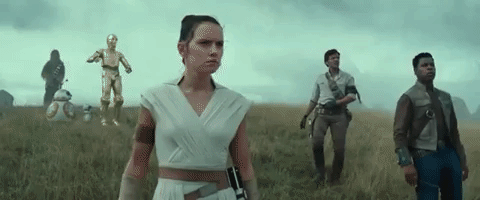 We hear Luke say "No one's ever really gone" followed by that unmissable laugh of Emperor Palpatine. If you remember the last time, we saw Palpatine was when Darth Vader flung him down a shaft leading to reactor core of the Death Star. It seems he's back and makes sense that our heroes might journey to the ruins of the last Death Star in search of clues.
Obviously, there's going to be a lot to wrap up to conclude the series, but judging by this teaser J.J. Abrams is on the right path. So freakin' excited right now!
What are your thoughts? Leave your comments below!