I never thought I'd cover industrial metal act Rammstein here on GoHakka, but their latest antics are definitely newsworthy!
While being in gay isn't illegal, openly LGBTIQ people in Russia are constantly at risk. Recently activist, Yelena Grigoryeva was murdered after her name was listed on a disgusting 'gay hunting' website. While in the self-governed state of Chechnya, LGBTIQ people are being round up and imprisoned in modern-day concentration camps facing violence and torture on a daily basis.
During their latest performance in Russia's capital city of Moscow, two of Rammstein's members protested Russia's anti-LGBTIQ laws on stage in front of thousands of attendees. Guitarists Paul Landers and Richard Kruspe shared a kiss on stage during their performance in the act of defiance against Vladimir Putin's 'gay propaganda' law.
The band shared a photo of the kiss on Instagram which took place during their performance of Aüslander alongside the caption "Russia, we love you!"
It's not the first time the band has shown support for LGBTIQ rights on their current tour either. During their performance in Poland, some of the band crowd-surfed on a rubber dinghy waving a rainbow Pride flag. The move was in retaliation to the violence that took place at the recent Pride march and as news of 'LGBT-free' zones were being promoted by bigots.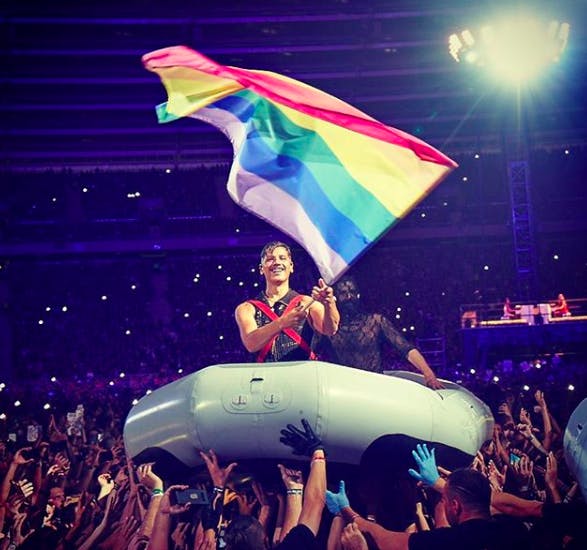 Of course, Rammstein's show of support for the rainbow community has been praised by many of the band's fans, with one posting, "RAMMSTEIN'S MOSCOW INSTA PICS ARE FILLED WITH HUGS AND KISSES LIKE A SYMBOLIC MIDDLE FINGER OH MY GOD I LOVE THESE CHAOTIC MEN"
While another adds, "lgbt flags in poland, a mlm kiss in russia, rammstein doesn't give a fuck and i love it"
And another wrote, "I love this band so so much 💕 Just when I thought I couldn't love them more than I already do, here they come, waving pride flags and openly supporting LGBTQ people. Thank you Rammstein for being the most amazing human beings one could ask for! 💕🏳️‍🌈#Rammstein #Pride"
Visitors to Russia aren't free from prosecution for breaking the country's anti- LGBTIQ laws. With an upcoming show at St. Petersburg, it will be interesting to see if Rammstein will face any consequences for their actions. In the meantime keep fighting the good fight!