The Primetime Emmy Awards have come and gone for another year. But we're pleased to announce that several LGBTQ+ shows and stars took home awards as well.
History was made with Billy Porter winning the award for Lead Actor in a Drama Series, for his portrayal of Pray Tell in the critically-acclaimed Pose. Porter is the first openly gay man of colour to take home the award in the history of the Emmys.
"The category is love y'all, love! I am so overwhelmed and I am so overjoyed that I have lived long enough to see this day. James Baldwin said 'it took many years of vomiting up all the filth that I had been taught about myself and halfway believed, before I could walk around this earth like I had the right to be here," said the actor during his acceptance speech, "I have the right, you have the right, we all have the right. We as artists are the people that get to change the molecular structure of the hearts and minds of the people who live on this planet. Please don't ever stop doing that, please don't ever stop telling the truth."
While RuPaul found another reason to celebrate. After being awarded Outstanding Reality Competition Host earlier this month at the Creative Emmy Awards, Drag Race was awarded Outstanding Reality Competition Series for the second consecutive year in a row.
After thanking the Academy voters, RuPaul used his acceptance speech as an opportunity to encourage viewers to get involved in the 2020 presidential election.
"Thank you for voting for us, we love you for that – and speaking of voting and love, go and register to vote, go to vote.gov and register," he urged.
Following RuPaul's win, Patricia Arquette made a passionate speech winning an Emmy for her performance in The Act. Remember her sister Alexi who passed away in September 2016, Arquette spoke out against transgender persecution.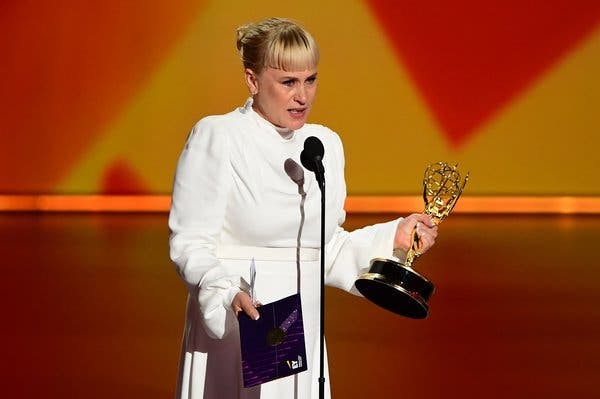 "I just have to say 'I'm grateful to be working. 'I'm grateful at 50 to be getting the best parts of my life and 'that's great," said Arquette.
""But in my heart, 'I'm so sad I lost my sister Alexis and that trans people are still being persecuted,"" she continued.
"'I'm in mourning every day of my life, Alexis, and I will be for the rest of my life for you, until we change the world so trans people are not persecuted — and give them jobs. 'They're human beings, 'let's get rid of this bias we have everywhere."
Out actor Ben Whishaw scored the Supporting Actor in a Limited Series or Movie award for his role in British drama A Very English Scandal. The three-part series told the true story of politician Jeremy Thorpe who was embroiled in a secret gay love affair during the height of his political career in the late 1960s, only to be forced to extreme lengths to make sure the truth didn't come out.
However, Fleabag was definitely the big winner of the night, taking home Outstanding Comedy Series and Lead Actress in a Comedy Series for its star and creator Phoebe Waller-Bridge.
While there is still far to go for equal representation in both film and television, it's clear progress is being made. It's even better to see LGBTQ+ shows and its stars awarded for their achievements. We're living in exciting times!
Here is the complete list of winners for the 71st Primetime Emmy Awards
Best Comedy
Fleabag (Amazon)
Best Drama
Game of Thrones (HBO)
Best Limited Series
Chernobyl (HBO)
Best Actress, Comedy
Phoebe Waller-Bridge, Fleabag
Best Actor, Comedy
Bill Hader, Barry
Best Actress, Drama
Jodie Comer, Killing Eve
Best Actor, Drama
Billy Porter, Pose
Best Actress, Limited Series or TV Movie
Michelle Williams, Fosse/Verdon
Best Actor, Limited Series or TV Movie
Jharrel Jerome, When They See Us
Supporting Actress, Comedy
Alex Borstein, The Marvelous Mrs. Maisel
Supporting Actor, Comedy
Tony Shalhoub, The Marvelous Mrs. Maisel
Supporting Actress, Drama
Julia Garner, Ozark
Supporting Actor, Drama
Peter Dinklage, Game of Thrones
Supporting Actress, Limited Series or Movie
Patricia Arquette, The Act
Supporting Actor, Limited Series or Movie
Ben Whishaw, A Very English Scandal
Television Movie
Black Mirror: Bandersnatch (Netflix)
Variety Sketch Series
Saturday Night Live (NBC)
Variety Talk Series
Last Week Tonight With John Oliver (HBO)
GoHakka Events:
29th of September: Drag Brunch Club Pride Edition
29th of September: All Stars | Thicc Shake Crew + Kween Kong (Fluffy)
6th of October: GLAM | Stranger 80's Things Party
19th of October: The Alexander Ball | Category Of Ages
27th of October: Halloween Ball 2019 (Fluffy)
Check out more exciting events happening throughout Brisbane by clicking HERE!