While Pose may have wrapped up for Season Two, its cast continue to make headlines. Indya Moore who portrays Angel on the hit series made one of the most important fashion statements of the year.
The non-binary, trans activist/actor attended Daily Front Row's annual Fashion Media Awards last week where they were the recipient of the Cover of the Year Award for their appearance in Elle's June 2019 issue.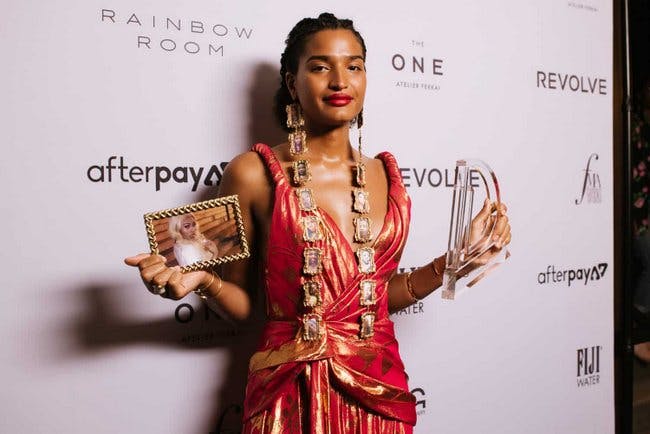 Indya used the opportunity to bring attention to the several lives lost by transgender women of colour as a result of gun violence. Showing up to the ceremony and also accepting the award, Moore wore "Keepsake" earrings composed of 16 photos of trans women who have been murdered this year in the United States.
"Some of you may be uncomfortable with the politics of my speech," Moore told the audience. "Right now, the Supreme Court is voting on whether or not trans people can access employment, shelter and health care in the same ways that you all have access …it's hard to celebrate being celebrated at a time when people like me are being murdered."
"On this day, that I'm celebrated and awarded for being visible, I decided to bring them with me," They added, "I'm wearing them on my ears as earrings."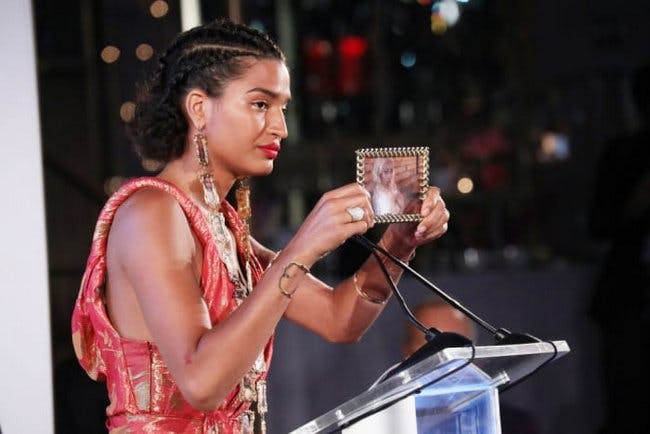 Indya also carried a framed photograph of 17-year-old Bailey Reeves, who was killed only three days before the event and after her stylist, Ian Bradley had made the earrings.
"When Ian, my beloved friend, and stylist prepared the earrings, he was worried that another woman would be murdered and that it would be too late to include her. On Labor Day—Monday—a 17-year-old girl named Bailey Reeves was shot to death in D.C." The Pose actor explained, "...As Ian predicted, it was too late to include her in the jewelry created by Aree. So I brought her in this picture frame for you all to see. 17-years-old, baby girl. Just like me, these women dared to exhaust their freedom to exist by being visible. However, instead of being celebrated, they're punished for it."
Moore's powerful words moved everyone in attendance. Not only did they receive a standing ovation, but several other presenters and honourees thanked Indya throughout the night as they approached the stage.
What an absolute champion!!!
You can read Indya's full acceptance speech HERE!
15th of September: Drag Brunch LIVE
15th of September: Category Is Loud And Proud
19th of September: PRIDE Sessions Ft Alfie Arcuri LIVE
21st of September: PROUD (Official Brisbane Pride After Party)