The library was definitely open in the latest episode of Pose, and it delivered the greatest read of ALL time! In the second last episode of Season Two, our girls got a much-needed beach vacation to Long Island. Without spoiling too much, thanks to one of Elektra's (Dominique Jackson) clients, Blanca (MJ Rodriguez), Angel (Indya Moore), and Lulu (Hailie Sahar) got to enjoy a nice little getaway.
This season has been pretty full-on, and I've lost count how many times I've finished an episode with ugly tears. However, Life's A Beach was a lighter installment in comparison to the rest of the season, which celebrated the show's leading ladies and the bonds of friendship that they share.
Elektra decides to treat the girls with a night at an upper-class restaurant. However, a bigoted patron attempts to ruin their night going on to say "I know a man pretending to be a woman when I see one, and I see three right in front of me. This is not that kind of establishment."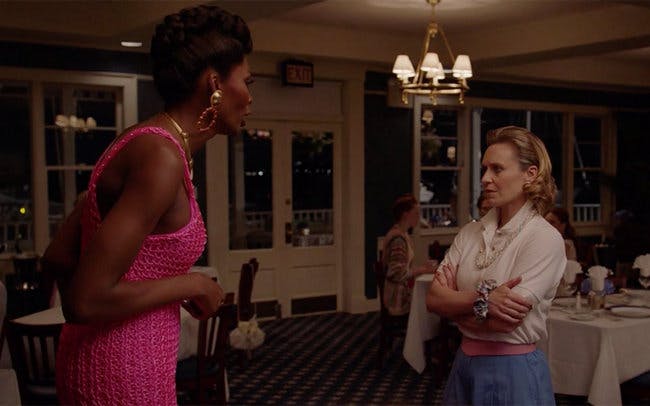 Towering over the women, Elektra responds with the greatest read of all time, "God may have blessed you with Barbies, a backyard with a pony in it, a boyfriend named Jake and an unwanted pregnancy that your father paid to terminate so you could go to college and major in being a basic bitch."
"None of these things make you a woman. Your uniform of ill-fitting J.Crew culottes, fake pearls, and 50 cent scrunchies cannot conceal the fact that you do not know who you are. I know our presence threatens you. We fought for our place at this table, and that has made us stronger than you will ever be. Now pick your jaw up off the floor, go back to your clam chowder and shallow conversations. My girlfriends and I aren't going anywhere. Y'all heard that?"
There's no denying the queens on Drag Race could learn a thing or two about reading from Elektra, that's for sure! I don't know what others think, but I personally believe it would have to be one of the fiercest moments of the entire series to date.
Pose wraps up its second season later this week.
We're not ready for this season to be over!