Brisbane's newest daytime queer takeover party is just around the corner. The 25th of January will see Harry K launch his latest offering in the form of OUTRAGEOUS at X-Cargo, promising to be an experience, unlike anything we've seen in Brisbane before.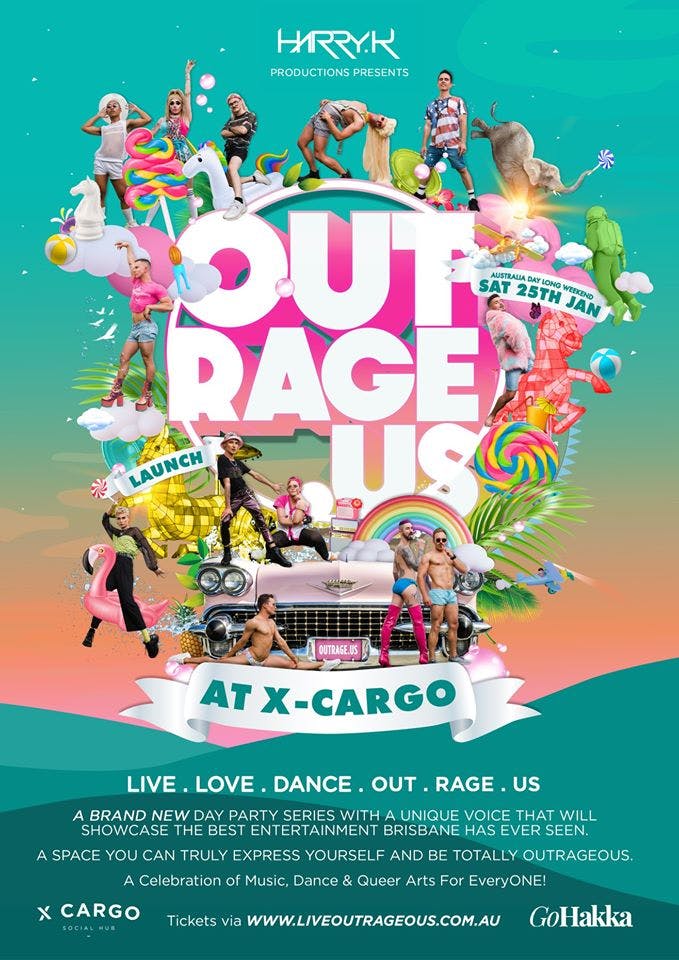 With two decades of creating queer events under his belt and hot on the heels of his successful launch of Out On Top on the Gold Coast, Harry K is expanding his brand by taking over X-Cargo for an unforgettable Day Party.
OUTRAGEOUS found its birth as a result of the continuous need for queer and safe places.
While times have changed thanks to the progress in equality and acceptance that society has made, Harry believes the queer community still needs the cultural experience of the community coming together at a physical and social place.
While we can sit at home and watch Drag Race on the TV screen and browse the plenty of apps available to find your next hook up, it's just not the same as being amongst a crowd taking in a show and meeting other people.
"Dancing and partying with a room full of your community enjoying the night of their lives provides an energy that sitting on the couch at home just doesn't bring." Harry adds, and that is precisely what OUTRAGEOUS sets out to be.
BRISBANE its time for us to LIVE - LOVE - DANCE as we take over X-Cargo for a brand new day party series. An space you...

Posted by OUT on Monday, December 16, 2019
The first installment will see entertainment provided by the likes of Vollie LaVont, Tina Bikki, Scarlett Fever, ShuShu Funtanna, BeBe Gunna, The Slaying Mantis, Thicc Shake Crew, Kryptonite. At the same time, the soundtrack for the day will be brought to you by local DJs, Harry K, DJ Dolly Llama, ENN, Kylie Rose, Karma, and Mason Andrews. So expect one fabulous and outrageous day!
Will you be joining the party?
Find out more at liveoutrageous.com.au
GoHakka Events:
12th of January: Fluffy's Angels 'Barbarella Edition' (Cloudland)
19th of January:Category Is SCI FI Ft Thicc Shake Crew (Cloudland)
25th of January: Outrageous Launch at X-Cargo
26th of January: Kath & Kim's Drag Brunch | Australia Day (Cloudland)
GLAM Space Odyssey (Oz Long Weekend) (Cloudland)
31st of January: GoHakka & Shokk Presents Pandora's Box (The Fortitude Music Hall)
8th of March: Big Gay Day After Party 2020 (Family Night Club)
26th of April: God Save The Queens Tour - Brisbane (Cloudland)