This Friday Out On Top makes its highly anticipated return to Gold Coast's Nineteen at The Star. Attendees will get to experience all the glitz and glamour 19 floors above the Gold Coast while being entertained by some of the best DJs and performers around.
Like its predecessor, this second installment of Out On Top will see yet another internationally renowned DJ grace the decks once more. The creator of one of the most popular vocal house podcasts in the world and also a demon on the decks, it's none other than DJ JOELBY.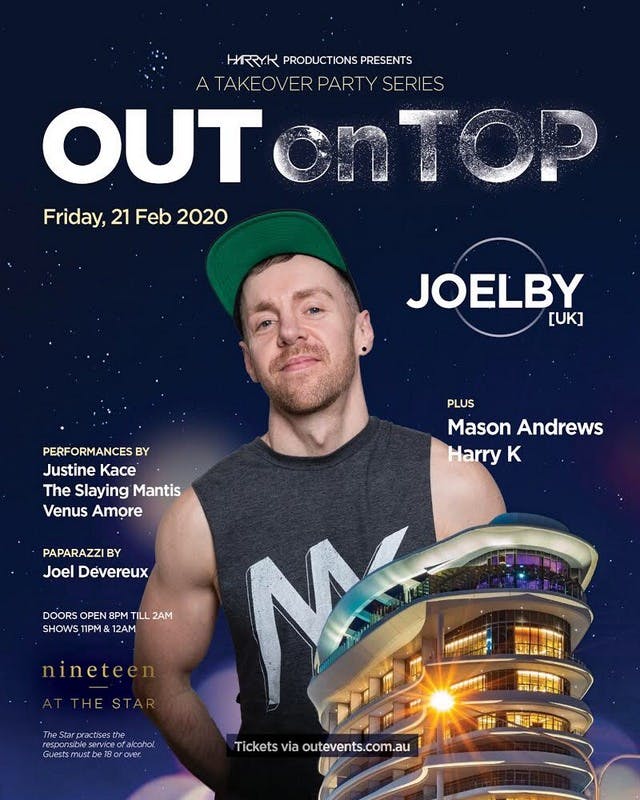 In the lead up to this month's Out On Top, we thought we'd pick his brains on everything from his podcasting, DJ experiences to what to expect from his set on Friday evening.
So your podcast Joelby's Funky Vocal House is one of the most popular DJ podcasts in the world. What initially turned you towards the platform?
It was really just a progression of what I'd been doing for years - I originally started making my own mixed CDs for friends as I was frustrated with those standard dance compilations that were full of 2 1/2 minute remixes, rather than the full-length versions.
In 2007 the number of discs I had to burn and then send to friends around the world started getting out of hand, so it made sense to put my mixes online. Podcasting was still in its infancy, and uptake was pretty slow for a while, but it has become so mainstream now, so it eventually just took off.
It seems everyone is starting a podcast these days, do you have any advice for those starting out?
I think just do your thing: perfect your sound or style, and don't worry too much about what others think. Definitely don't do it for the glory of downloads or how many people "follow" or "like". Oh and don't be afraid to try new things, make mistakes, and learn along the way!
There are some shocking clangers hidden in my early mixes, and as tempted as I've been to go back and fix them I kind of like that they're there for all to hear. It's part of my little imperfect story.
What inspired the transition from podcasting to DJing?
I just got asked enough times. It wore me down, and I eventually agreed to do it haha. It actually took a lot to overcome my crippling stage fright and finally do it. I always had a horrendous fear of failing at something I really loved doing, so it was easier to just not try.
I used to tell promoters I was "busy" or "travelling". Eventually, I realised I'd regret it forever if I didn't try, and it just so happened the right question came at the right time, and I did it.
You've played at some pretty epic parties during your career as a DJ, what has been the biggest highlight for you?
There are a few really - my first Sydney Mardi Gras in 2017 was unforgettable. Last year I played an outdoor set at a Palm Springs Pride party as the sunset over the Californian desert mountains - that was pretty incredible.
I also played at Tropical Fruits festival this New Years' day, and it was just 3 hours of me and a perfect crowd that took every song I threw at them. I've never had such a great reaction at the end of a set, I was so humbled.
What would you say has been the most awkward moment you've experienced on tour?
Oh god, I think it must be when I met eSQUIRE, a producer and DJ whose work I really admire and have podcasted and played ALOT. We were headlining a party together, and I was playing straight after him.
I started bringing in my first song as he was standing right next to me, and I still to this day don't know what happened, but my transition was ROUGH. The beat matching sounded like a drunk horse running down a cobblestone street. I was mortified.
You've been to Australia several times now, what is it you look forward to the most when returning?
My family and friends! But I also have a really hardcore group of amazing fans who (with tongue planted in cheek) call themselves #joelbystalkers, and they come to all my gigs in Sydney.
They've made Joelby posters and t-shirts and all sorts, and it's just incredible. The crowds in general in Australia really seem to respond to what I do, which is just amazing.
If there was one festival you could DJ at, what would it be and why?
It's hard to pick just one. In Australia, it's always been a dream to take the main stage at Sydney Mardi Gras, and I'm doing that this year. I'm still pinching myself over it, and I have every intention of blowing the roof of that place.
For the UK, I've always wanted to play at Brighton Pride - it just keeps getting bigger and bigger, and a home ground pride gig like that would be phenomenal. And I've also got eyes on playing New Yorks Pride Island Dance on The Pier. It looks spectacular.
What's your go-to track to get the dance floor pumping?
It can depend on the type of event and crowd really, but Green Light by Lorde is usually a winner. Any of the ABBA/Cher/Madonna covers/versions/samples of 'Gimme! Gimme! Gimme!' still pull a crowd together too.
Who's currently your favourite artist to spin?
I have to say Kylie will probably always be my favourite. Dua Lipa can barely do any wrong at the moment. But remixers and producers tend to be what I find go on trend, and at the moment, Dirty Disco are just at the top of their game. Bouncy, chunky, big vocals, I can't get enough of them.
What is the one requested song you dislike the most?
It's hard to say just one song. And quite frankly, I'm reluctant to admit it because I don't want to be bombarded with requests for it now haha. I have never taken to 'Finally' by CeCe Peniston. And while I'm at it, 'Show Me Love' by Robin S isn't really on my favourite list either.
For those not familiar with you, what can people expect to hear from your set at OUT on Top?
I think my music was best described by someone recently as bouncy! I've always liked that. I like big sing-along vocals, funky or punchy bass lines, and hands in the air moments.
I've always had the aim of podcasting mixes that get you singing along, shaking your bum, or working that little bit harder at the gym, and I try and apply that to what I bring to my live sets. Uplifting and bouncy!
You can check JOELBY headlining this Friday night at Out On Top. Joining him for the night will be DJs Harry K and Mason Andrews. Performances by Justine Kace, The Slaying Mantis, and Venus Amore, while everyone's favourite award-winning photographer Joel Devereux will be paparazzi for the night!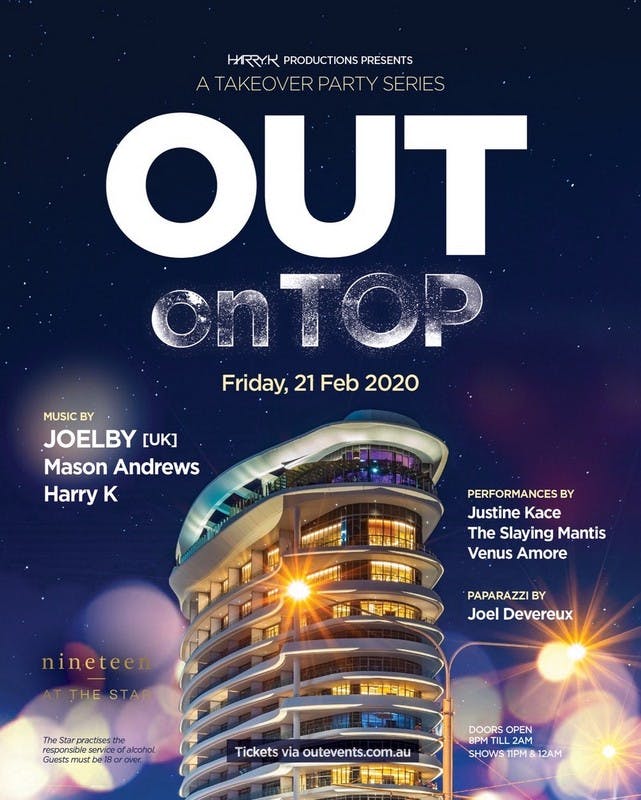 Friday the 21st of February.
Nineteen At The Star | Level 19, The Darling at The Star Gold Coast, Casino Dr, Broadbeach QLD 4218
First Release $25
On The Door $30
Purchase tickets by clicking HERE!
GoHakka Events:
21st of February: OUT on TOP | Nineteen at The Star (Nineteen at The Star)
23rd of February: Drag Brunch | Broadway Edition (Cloudland)
8th of March: Big Gay Day After Party 2020 (Family Night Club)
26th of April: Drag Race UK Tour - Brisbane (Cloudland)