Finally, it's official. After years of rumours and speculation, Warner Bros. has officially announced that The Matrix 4 is on its way.
What's even more exciting than a sequel to the iconic franchise? News that both Keanu Reeves and Carrie-Anne Moss will be reprising their roles of Neo and Trinity. And the excitement doesn't stop there. Lana Wachowski who directed the original trilogy with her sister Lilly, is returning to the franchise to direct and co-write the script for the upcoming flick.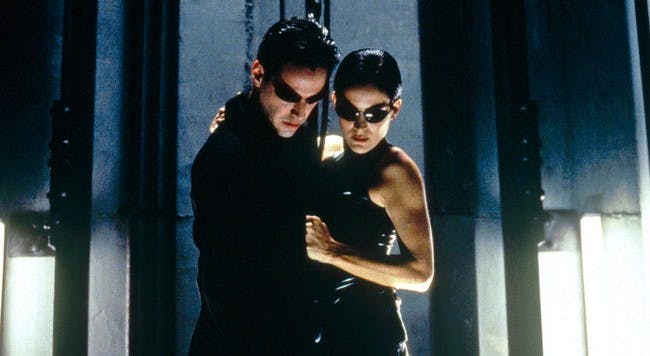 According to Variety, Lana has officially signed on to the project and will co-write the screenplay with Aleksander Hemon and David Mitchell. Previously, there was speculation that she was working on a script with Zak Penn, but that collaboration now no longer seems to be the case.
Warner Bros. Picture Group Chairman Toby Emmerich confirmed the news in a statement, "We could not be more excited to be re-entering 'The Matrix' with Lana. Lana is a true visionary, a singular and original creative filmmaker, and we are thrilled that she is writing, directing and producing this new chapter in 'The Matrix' universe."
It's not clear why Lilly Wachowski isn't returning to work on the fourth installment with her sister. But to have at least one of the creative minds behind the original films is better than nothing.
It sounds like the film is in good hands with Lana also saying in a statement, "Many of the ideas Lilly and I explored 20 years ago about our reality are even more relevant now. I'm very happy to have these characters back in my life and grateful for another chance to work with my brilliant friends."
Previously, there was talk that Michael B. Jordan was attached to the film, but at this stage, that is yet to be officially confirmed. With Keanu Reeves and Carrie-Anne Moss returning we at least know the movie will be a direct sequel to the original trilogy. It's unclear whether Laurence Fishbourne will reprise his role as Morpheus, but it seems only logical to have him return as well.
There is still no release date, but rumour has it that the film is predicted to start shooting in 2020.
Are you excited to plug back into the world of The Matrix?