The stats are in for the most popular same-sex wedding songs, and it would come as no surprise, the list would be a little queer.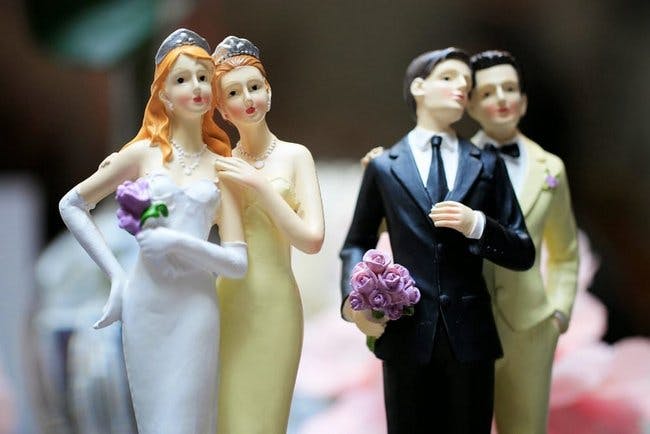 Researchers from Eventopedia have taken it upon themselves to analyse thousands of songs from Spotify playlists that featured the terms "LGBT wedding" and "gay wedding 2019" to find the most popular songs that same-sex couples are choosing for their big day.
Coming in at number one and also a personal favourite is none other than Whitney Houston's 'I Wanna Dance with Somebody (Who Loves Me).' The iconic gay anthem appeared across most 2019 Spotify playlists closely followed by ABBA's 'Dancing Queen' and The Weather Girl's 'It's Raining Men.'
Eventopedia founder,Toby Heelis had the following to add, "Weddings are often the most significant event of people's lives, and having the right music to accompany it is just as important. The first dance is a defining moment, so making sure we choose the perfect soundtrack is paramount, as is ensuring the balance between being emotional and not being overly cringey."
According to the data collected, the ideal songs for a same-sex wedding in 2019 on average were released in 1988 with the average length of 4:06 minutes and a tempo of 120bpm
Check out the Top 10 Wedding Songs for 2019 below
1. I Wanna Dance With Somebody (Who Loves Me) – Whitney Houston
2. Dancing Queen – ABBA
3. It's Raining Men – The Weather Girls
4. Uptown Funk – Bruno Mars & Mark Ronson
5. Dreams – Fleetwood Mac
6. September – Earth, Wind & Fire
7. Best Of My Love – The Emotions
8. Born This Way – Lady Gaga
9. I'm Coming Out – Diana Ross
10. Man! I Feel Like A Woman! – Shania Twain
In contrast to the top songs, the average perfect first dance for same-sex weddings in 2019 was released in 2003, with the average tempo 112 bpm and length of 3:42.
The Top 10 first dance songs 2019
1. All Of Me - John Legend
2. Can't Help Falling in Love - Elvis
3. Die A Happy Man - Thomas Rhett
4. Let's Stay Together - Al Green
5. Say You Won't Let Go - James Arthur
6. A Thousand Years - Christina Perri
7. Make You Feel My Love - Adele
8. Better Together - Jack Johnson
9. Just the Way You Are - Bruno Mars
10. Latch (acoustic) - Sam Smith
Those first dance songs really hit me right in the feels. Sometimes I'm too emotional for my own good!
Did any of your favourites make the lists?
GoHakka Events:
29th of September: Drag Brunch Club Pride Edition
29th of September: All Stars | Thicc Shake Crew + Kween Kong (Fluffy)
6th of October: GLAM | Stranger 80's Things Party
19th of October: The Alexander Ball | Category Of Ages
27th of October: Halloween Ball 2019 (Fluffy)
Check out more exciting events happening throughout Brisbane by clicking HERE!