Prepare for a night of glitz and glamour with Harry K presenting the inaugural OUTRAGEOUS GALA BALL to celebrate this year's Brisbane Pride Festival.
Taking over Brisbane's stunning and iconic Fortitude Music Hall, prepare to live out your red carpet fantasies with the ultimate gala extravaganza. As you enter, strut down the queer runway celebrating the wondrous diversity of Queensland's LGBQT+ community and have your moment to shine against the OUTRAGEOUS media wall. Then enjoy an evening showcasing the fantastic talent of some of Queensland's best performers.
The OUTRAGEOUS GALA BALL is set to become not only the glitziest must-attend event on the LGBTQ+ calendar but will also be a celebration of music, dance and queer arts. From burlesque to drag to circus and DJs, all tastes will be catered for. If the first announcement for the OUTRAGEOUS showcase is anything to go off, it's going to be an action-packed night that will give the Met Gala a run for its money.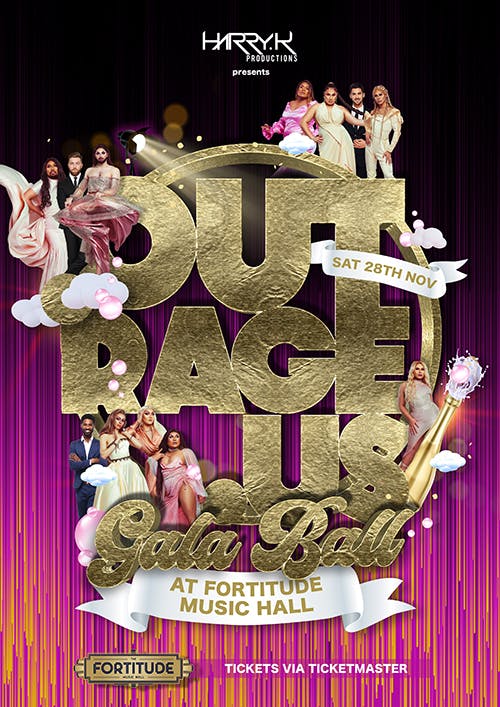 Check out the first lineup announcement below.
Bebe Gunn
Beverly Kills
ENN
Harry K
House of Alexander
Kryptonite's Freak Circus
Lulu Lemans
Mandy Moods
Mason Andrews
Scarlett Fever
Shushu Funtanna
The Gaga Experience
The Runway Movement
The Slaying Mantis
Thicc Shake Crew
Tina Biki
Vollie LaVont
Lock the 28th of November in your calendars and start preparing your fabulous outfits. Because the dress code is EXPRESS YOUR TRUE OUTRAGEOUS SELF!
OUTRAGEOUS GALA BALL
The Fortitude Music Hall.
RED CARPET 7pm till 9pm with photographer capturing your moment to shine.
VIP PARTY @ OUTPOST 7 till 9
OUTRAGEOUS MAIN EVENT BEGINS AT 9
There are several ticketing options available.
GENERAL TICKETS
$80 + B/F (Sold In Tables Of 4)
THE OUTRAGEOUS TICKET
Powered By Chandon
$125 + B/4 (Sold In Tables Of 4)
3 Hour Outrageous Package including beers, cider, wine, Chandon NV Brut & sweet treats
THE OUTRAGEOUS VIP EXPERIENCE
Powered By Moet
$150 + B/F (Sold In Tables Of 4)
VIP Party At The Outpost from 7pm till 9pm
3 Hour Premium Package including premium beers, cider, wine, Moet Chandon Imp Brut & sweet treats.
For full details click HERE!