While many are facing self-isolation and practicing social distancing, it seems many performers are turning to the Internet more than ever to bring the entertainment directly to the comfort of your own home.
Producer Entertainment Group (PEG) has announced Digital Drag Fest. Think DragCon but on your computer. Featuring some of the biggest names the biggest names in drag, the initial response was so overwhelming that the first shows sold out in a matter of 48 hours. Now determined to make the online event even larger, organisers have added over 40 performers to the lineup.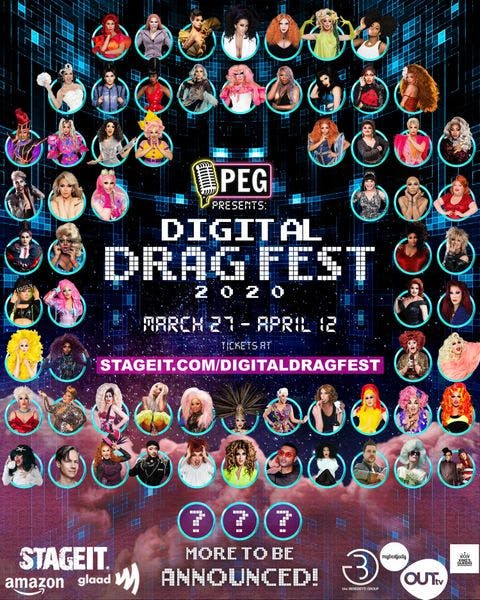 "We launched this festival hoping to unite a few fans with the drag artists they love during a hard time," Said PEG founder and president David Charpentier.
"We could never have anticipated how overwhelming response would be around the world, from both artists and fans alike. We're excited to work with so many talented artists on this lineup and so pleased that GLAAD and Amazon will be part of this experience with us."
GLAAD has not only joined as a partner for the event, but 50% of the proceeds from the show's merchandise will be donated to the organisation to help assist them in continuing the great work they do.
"Drag queens have always provided a break from the dreary aspects of life. It's no surprise that drag queens would be among the first to jump to action in this uncertain time," said performer and Drag Race Season 5 winner Jinkx Monsoon. "All we need is some music and someone to watch us, and we can put on a show."
Each thirty-minute show will be a once in a lifetime live experience, which will never be recorded or re-released. Singing, cooking, comedy, lip-syncing, and drama are just some of the many elements that will be showcased throughout the festival.
Digital Drag Fest runs March 27–April 6. So click on over to StageIt to check out the massive lineup and purchase tickets to support your favourite drag performers.