Our very own Courtney Act will make history kicking off Sydney's Gay and Lesbian Mardi Gras performing on top of the Sydney Harbour Bridge.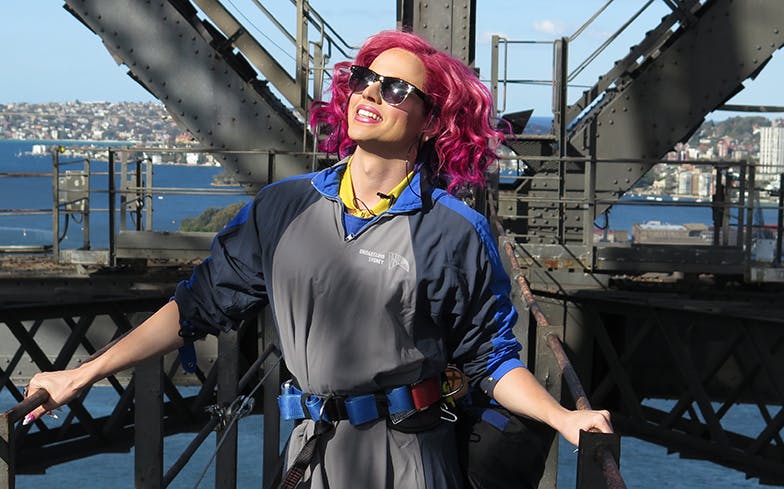 The Celebrity Big Brother Uk winner, Drag Race alumni, and former Australian Idol contestant will be the first-ever drag artist to perform on top of the iconic and internationally recognised bridge on the 6th of February.
"I'm honoured to be performing" said Courtney, "I can't wait to kick off celebrations in style for my favourite time of the year."
BridgeClimb are welcoming people to climb the bridge throughout Mardi Gras with both sunrise and night climbs available.
"We can't wait to see Courtney strut her stuff on the famous iron structure.," says BridgeClimb CEO, Chris Zumwait.
"This performance is the perfect way to kick off the Mardi Gras celebrations in Sydney, loud and proud."
Sydney's Gay and Lesbian Mardi Gras is one of the biggest LGBTQ+ celebrations in the world that sees thousands of people from across the globe come travel to Sydney to partake in the celebrations.
For details about BridgeClimb click here and to check out all the details of the upcoming Sydney Gay and Lesbian Mardi Gras on their official website.
GoHakka Events:
31st of January: GoHakka & Shokk Presents Pandora's Box (The Fortitude Music Hall)
9th of February: POP TARTS Ft Skye Blue, Luna Thicc & Vollie LaVont (Cloudland)
8th of March: Big Gay Day After Party 2020 (Family Night Club)
26th of April: God Save The Queens Tour - Brisbane (Cloudland)