Last year Cher surprised the world stepping off a helicopter singing a rendition of "Fernando" in Mamma Mia: Here We Go Again. Of course, it was an instant hit. Shortly after the film was released at the cinemas, the singer took the love of ABBA even further by coming out with an entire album of covers, appropriately titled, Dancing Queen.
Featuring classics like "Gimme! Gimme! Gimme!," "Dancing Queen,"and "SOS," the album proved to be rather successful on the charts breaking the Top 5 on the Billboard 200 album chart, it's only natural that she would do a follow-up.
Last November the singer teased that she would like to do another album of covers that would include the likes of "Money Money Money," "Take A Chance On Me," and "Super Trooper." Now fans of Dancing Queen will pleased to know that Vol.2 is indeed happening.
When a fan asked her on Twitter for an update on the potential follow-up album, she confirmed the news writing "been downstairs recording" and that she had already completed four songs. She also went on to add that she's currently "Working on Voulez Vou,Chiquita en espanol"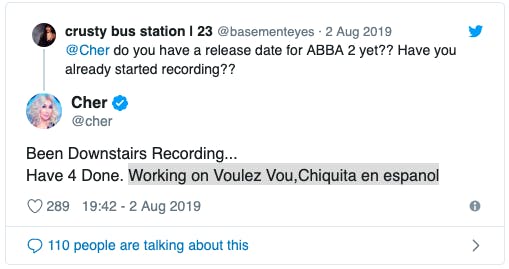 In a later tweet, she went on to reveal that the tracklist currently includes "When All Is Said And Done," "Chiquitita (en Español)," "Take A Chance On Me," "I Do I Do I Do I Do I Do," "Super Trooper," "Voulez-Vous" and two unnamed tracks leaving spans to speculate what they are.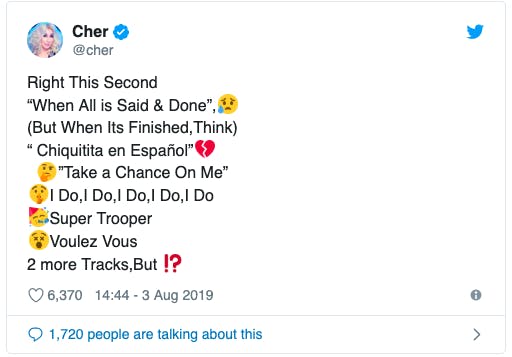 While we would prefer Cher to come out with some new original music, another album where she covers ABBA isn't all that bad either.
What are your thoughts?