As the saying goes, kill your enemies with love! That's exactly what Burger King Finland has done with their latest advert.
To coincide with Helsinki Pride Week, the ad features their mascot locking lips with rival Ronald McDonald with the phrase "Love Conquers All." The picture of the kissing mascots has been reportedly appearing in both outdoor and print advertising, including social media with the purpose to celebrate love and equality.
"Burger King has always stood for equality, love and everyone's right to be just the way they are," said Kaisa Kasila, Burger King Finland's brand manager in a statement. "The only instance where it might not seem so is when we're bantering with our competitor."
"Our brand is always bold, edgy and fun," Global chief marketing officer, Fernando Machado tells Adweek. "So showcasing this 'impossible kiss' is a way to demonstrate that love conquers all."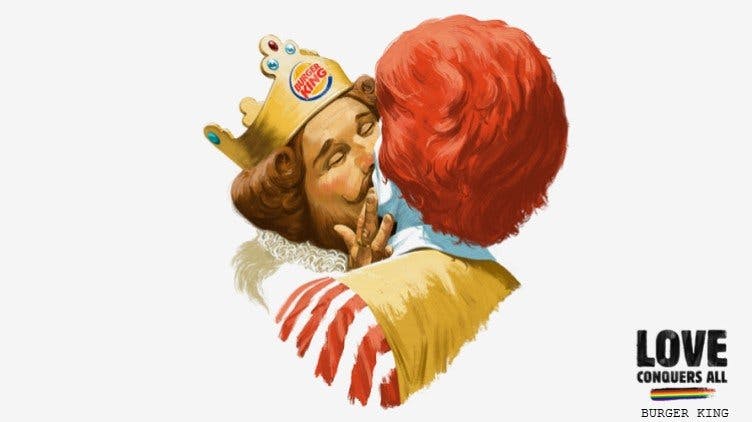 Kasila added it was the "desire to celebrate love in all forms" that inspired the campaign.
"We thought, what better way to convey our values than by portraying an all-encompassing kiss between Burger King and McDonald?" Kasila explained, "We wanted to show that in the end, love always wins."
It's all very tongue in cheek (literally), and we love it. We highly doubt the two franchises will combine forces and create a Whopper with Big Mac sauce. Or shall we be expecting a three-way kiss with Colonel Sanders in the coming weeks? The ad is a bit of fun all in the name of Pride and we fully support it.
Upcoming Events:
13 of September: FLUFFY [Late Nite] 13.09.20
18th of September: Hey Felicia! A Drag and Dine Musical
20th of September: FLUFFY [Late Nite] 20.09.20
27th of September: DRAG Brunch 80s Party