The countdown to American Horror Story:1984 is officially on. The latest season of the anthology series pays tribute to the classic slasher flicks of old. After tease after tease, an official first trailer with footage from the ninth season has arrived, and it's 80's horror goodness!
Each season Ryan Murphy has taken a different approach covering everything from haunted houses to alien abductions, to carnival freaks witches and serial killers. This season, the series is taking fans to the 80s. The era of summer camps, big hair, fluro, and the classic slasher.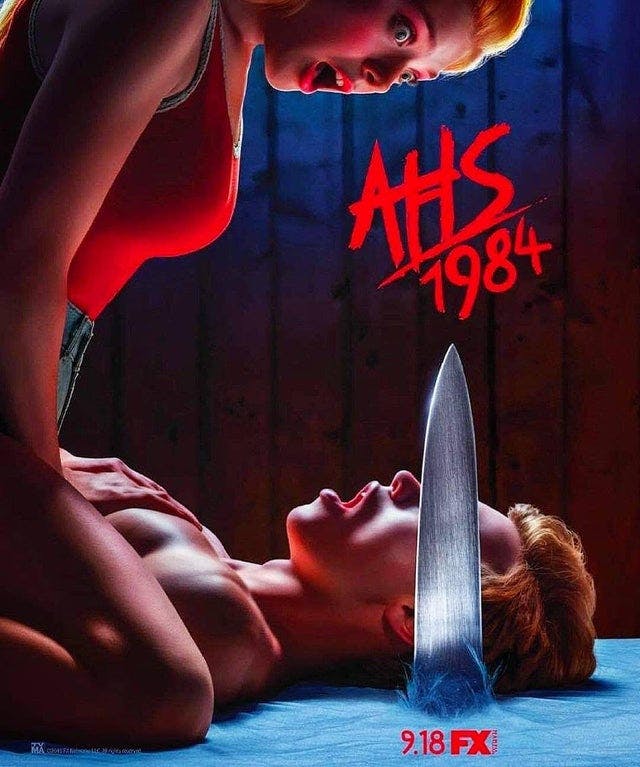 According to the trailer, the story seems pretty straight forward and somewhat familiar. A group of teenagers drives to summer camp while a crazed murderer has escaped from a nearby psychiatric hospital and is on the loose. While heading to the campgrounds that have a dark past, they accidentally run someone over and vow to keep it a secret.
Do we need to rattle off a list of how many horror flicks have this same premise? While the storyline might seem pretty cliched, this is American Horror Story, a series known for subverting horror expectations. Something makes me think this is only the tip of the bloody iceberg.
Watch the trailer below:
It looks like the 9th season is set to scratch that itch for 80s horror fans, and we'll be living for every moment of it!